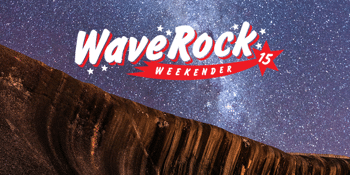 WAVE ROCK WEEKENDER
Wave Rock Resort (Hyden, WA)
Fri 25 - Sun 27 September 2020 1:00 pm
Oh 2020!!! This is just what we need right now after such a crappy year.
Forget second waves and leave your worries at the start of the Brookton Highway for the 15th Wave and a weekend of open roads, big sky, long horizons, fresh air, freedom, friends, music, camping, cold booze, amazing bush, crazy dancing, delicious food and more.
That's right - The 15th and 2020 edition of the legendarily lovely ultra-boutique Wave Rock Weekender runs over three wild nights over the long weekend from Friday 25 September to Monday 28 September.
We are making extra room to ensure we can run in either Phase 4 or Phase 5 restrictions safely and to make sure we can maximise the feelings and frivolity we have the absolute cream of Western Australian bands coming together as one to wrap their diverse and delectable music around you all. This one will be epic and a gathering of WA's finest bands and people at one of the best weekends on earth.
Pond | Spacey Jane | Stella Donnelly | Psychedelic Porn Crumpets | San Cisco | Southern River Band | Sunshine Brothers | Teischa | Shiny Joe Ryan & the Sky Dolphins | Wave Rock All Stars | Adrian Dzvuke | Airline Food | Blind Tiger DJ's | Butter Chicken | Carla Geneve | Demon Days | Downsyde | Dancing in Space DJ's | Galloping Foxleys | Ghost Care | Grace Barbe | Great Gable | Grievous Bodily Calm | Lincoln MacKinnon & The Wrecking Train | plus Salt Pond | Wave Rock projections | 24hr Cinema | Yoga | and so much more…
For the uninitiated, we take over that sweet little caravan park and magnificent 270 million year old rock on the edge of the desert deep in the West Australian bush for the 15th time with what is simply the best people ever (both on and off stage) enjoying the most pleasurable, personal, sustainable and soulful festival experience in Australia

. Our ever reliable single main stage & bar,

late night district,

24 hour cinema, Wave Rock including soundscapes & projections at night, salt pond, yoga and usual delightful food and bar vendors will all be there

with great new menus so it's time to get your Wheatbelt buckled up and get it together once again. More to come but line up already includes nothing but totally unbridled excellence.
(18+) only / Fully licensed event / No Campervans or Caravans / No BYO alchochol/ No Pets / No Children / VALID ID required for check-in.